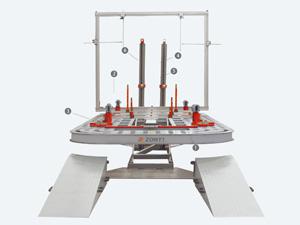 Model: F500
Preisliste Download
ZY-F500 takes in the most advanced technology of the globe. Also take the actual problems existing during domestic auto repairing works into sensible consideration. This equipment is aiming at Practicability, safety and accuracy. The adaptation of modular design concept as well as professional division of labor, with our great passion and exquisite workmanship, creates distinguished quality and technology. 1. The platform that the length is 6150mm and width is 2260mm made from the overall alloy steel welding. and high strength. The orbit adopts double material welding, 20 mm in thickness. 2. Double posts, 160mm of diameter, 2000mm of height can meet the pulling repair of a variety of high-tensile auto bodies. 3. Main clamps with measuring system can help us to locate car precisely. 4. Rich high-tensile pulling clamps and accessories can meet the pulling repair of autos in different shapes. 5. Equipped with universal hook chain, fully adjust tensile force bearing 6. Double hydraulic systems guarantee strong power and durability. 7. High-precision measuring system can provide accurate and convenient
Mechanical measuring system
Universal clamp
Orbicular platform
Pulling tower
Adjustable collars
High intension chains
Hydraulic vertical lifting platform for easier loading and unloading.
The pulling tower can move arbitrarily at any position around the platform.
Double tower provides more possibilities for collision repairing.
Hydraulic cylinder vertically in pulling tower, with strong and accurate pulling power.
With different body repairing tools for any kinds of car collision.
Accurate mechanical measuring system to measure 3-dimensional data of car body.
Abundant car data is prepared and updated to the latest.
The unique design of clamp provides easy and fast installment & clamping for all kinds of light vehicles.
SPECIFICATION

| | |
| --- | --- |
| Platform length: | 5500mm |
| Platform width: | 2270mm |
| Platform height: | 300-800mm |
| Max. pulling force: | 10ton |
| Tower traction range: | 360° |
| Pneumatic pressure: | 6-8bar |
| Max. lifting load: | 3500KG |
| Measuring precision: | ±1mm |